By Melanie Sakowski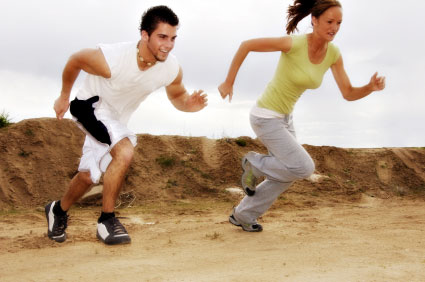 Choosing a workout program is overwhelming, what with the wide array of exercise mediums and die-hard enthusiasts for each.  It's really hard to choose which type you're best suited for: endurance cardio, H.I.I.T. (High Intensity Interval Training), resistance/weight training, plyometrics, yoga, Pilates, or a combination of them all.
We're bombarded with so much information and advertisement for different "New" and "Revolutionary" machines, that claim to "cut your workout time in half!" or "magically shed off the pounds." It can get really confusing, and this is why online training programs are so enticing, they just tell us what to do.
Downside to Online Programs:
The problem with online prescribed programs, is that studies have proven that your adherence to a fitness program is severely lowered when not properly educated about the program.  Our adherence increases when we have an active role in creating our own program, with guidance from a trained professional in the fitness field, or when given the information tools to do so ourselves.  So instead of following a program blindly, let's demystify the purpose of different exercise styles, and find out which are best suited for different fitness goals.
What is the purpose of your exercise program?
Are you looking to

lose weight

?
Improve

cardiovascular fitness

?

Gain muscle

?
So how do different training styles affect my body differently?
Essentially, working out primarily targets our energy systems directly related to our bodies cardiorespiratory system.  There are two main energy systems in the body; the aerobic system, and the anaerobic system.  Both systems rely on heart rate and breathing in order to determine which one is used.   The aerobic system is activated and used when the body has access to oxygen and uses it in order to create energy from glucose.  The target heart rate that engages this system is that of about 70-80% of your max (which can be roughly calculated by subtracting your age from the value 220).  Basically this means that the heart rate is at a sustained, comfortable increased breathing rate, one that could be maintained upward of 30 minutes.  The aerobic system will use mostly glucose stores, unless the duration of exercise exceeds 90-120 minutes, in which case the body's immediate glucose stores will be depleted, and the body will shift to using fat stores to further fuel the exercise.
Examples of aerobic exercise:
jogging
swimming
cycling
step class
kick-boxing
On the other hand, anaerobic exercise is when the body creates fuel without the presence of oxygen.  This occurs when the exercise demand on the body is greater than what the aerobic system can provide, so instead the body shifts to use its own stores and chemicals for fuel.  The anaerobic system is for short bursts of high intensity cardio, from 3 seconds up to a maximum of 2 minutes.  The target hear rate for this exercise is between 80-100%.  There are two forms of anaerobic exercise, or two stages of anaerobic exercise.
The first stage is the "ATP-PCr" system, or the "speed" stage.  This system is used for an all-out sustained effort of 3-15 seconds.
Examples of exercise using the ATP-PCr system:
100-200 meter running sprints
treadmill intervals
25-50 meter pool swim sprints
100 meter hurtles
all-out deadlift
H.I.I.T. (High Intensity Interval Training)
Plyometrics (exercises combining speed and strength such as maximum burpees, mountain climbers, jump-squats, and other explosive body weight exercises)
If the exercise duration of the all-out sprint lasts longer than 15 seconds, upward to 2 minutes, then the body shifts to the anaerobic glycolytic system, also known as the "anaerobic endurance" stage, where the body produces lactic acid in order to sustain exercise and use it as a fuel source.  This system is not as effective at burning fat as is the aerobic system, however it indirectly burns fat by increasing resting metabolism as lean muscle mass is gained through the exercise.
Examples of exercise using the Anaerobic-endurance system:
800 meter – 1500 meter running sprints
200-400 meter swim sprints
800 – 1500 meter hurtles
It is important to note that exercise builds muscle, and cardiovascular exercise builds heart muscle and makes the body more efficient in circulating blood, and oxygen.
So, in choosing an exercise program, it is a good idea to look at your goals and choose a program accordingly.
If your focus is on improving your endurance, exercises of

longer duration at a sustained heart rate

will improve your respiratory endurance, as well as build muscle.
To get faster and increase your ability to filter oxygen, and become more efficient at using oxygen, you have to push your heart rate above what you would be able to sustain for a long duration, meaning exercises such as High Intensity Interval Training, sprints, and other explosive movements.
If you want to lower your body fat, combine a routine of muscle building as well as longer cardio.
If your goal is primarily to build muscle, then short warm-up cardio at a low-sustainable heart-rate, paired with plyometrics, free-weights, resistance machines, and machine-free body weight exercises like push-ups are the way to go.
It is crucial to understand how to pair your exercise program with your goals, and it is evident that the best program is one that incorporates different training styles to reach one's goals, as both muscle and aerobic gains can work together to produce results.
So in creating a tailored program for yourself, make sure you look at your goals, and become informed about the results that each exercise will do to your body.  Become an informed exerciser, and make a routine that suits your goals, instead of signing up blindly for a program online.  Remember that by taking charge of your routine, and becoming an educated exerciser you will increase the likeliness of sticking with that program.
Good luck and happy planning!
Sources:
http://www.brianmac.co.uk/energy.htm
http://exercise.about.com/cs/cardioworkouts/l/blcardioendure.htm
http://www.intervaltraining.net/hiit.html
http://www.emedicinehealth.com/strength_training/article_em.htm
http://www.brianmac.co.uk/plymo.htm
http://www.yogajournal.com/
http://pilates.about.com/od/whatispilates/a/WhatIsPilates.htm
http://www.sweatyguineapig.com/wp-content/uploads/2008/06/sprinting.jpg
http://www.bg-webhosting.com/fitness/wp-content/uploads/2010/08/Aerobic-Exercise3.jpg
Tags: aerobic exercise, Anaerobic Exercise, ATP-PCr, cardio, Fat Burning, free-weights, High Intensity Interval Training, hurtles, Jogging, kick-boxing, muscle building, Pilates, Plyometrics, Resistance Training, sprints, step class, Swimming, training program, Yoga, zumba